Sipping away your Metabolism: 4 Breakfast Beverages to avoid!
There's no denying it – breakfast is the most important meal of the day. But are you fueling your metabolism or weighing it down? The answer may be found in your morning beverage.
For those who swear by their daily dose of caffeine, listen up – your beloved iced latte might be doing more harm than good. But fear not, metabolism-boosting breakfast beverages do exist, and we've got the lowdown on what to avoid and what to savor.
So if you want to kickstart your day the right way, grab your mug and settle in – we've got some news for you.
Imagine this!  you wake up, bleary-eyed and in need of a quick caffeine fix. So, you head into your kitchen and make yourself a cup of coffee.
It's a ritual that you've been through countless times before, but did you know that some popular breakfast beverages can actually slow down your metabolism? It's true, and it's something that not enough people are talking about. That's why we're here to shine a light on the four worst offenders, the drinks that you should avoid like the plague if you want to keep your body firing on all cylinders.
From sugary smoothies to syrupy syrups, we'll examine each of these culprits in turn, revealing the truth behind their insidious effects on your metabolism. So, before you reach for that next cup of your favorite drink, ask yourself: are you really willing to sacrifice your body's natural metabolic rate for the sake of a quick buzz? The answer should be a resounding No!
 Breakfast Beverages Impact on Metabolism
Do you depend on your morning coffee or smoothie? Your drink choice can impact your metabolism and calorie burn throughout the day. Discover the effects of popular breakfast beverages and explore alternative options to kickstart your day.
Keep reading to uncover the connection between your morning drink and metabolism.
The Culprits: Sugary Juices and Creamy Lattes
Choosing a healthy breakfast drink can be tricky, especially if your goal is to boost your metabolism. Sugary juices and creamy lattes are popular but not the best options.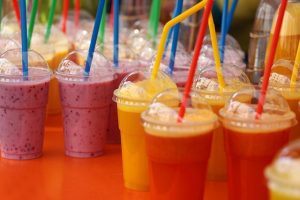 These drinks are loaded with empty calories and can spike your blood sugar, causing your metabolism to slow down and hampering your fat-burning potential. Instead, opt for protein-rich and low-sugar drinks like green smoothies and protein shakes to rev up your metabolism.
Avoid sugary juices and creamy lattes for a healthier waistline.
Better Alternatives: Green Smoothies, Green tea, and Black Coffee
Do you enjoy coffee or a morning soda or smoothie? Beware, as studies show that sugary and artificially sweetened drinks, such as fruit juice, energy drinks, and sweetened coffee or tea, can slow down metabolism and hinder weight loss. However, there are better options available.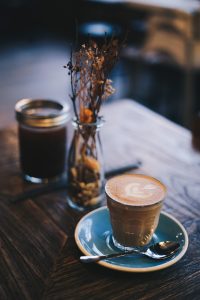 Green smoothies filled with leafy greens, fruit, and protein can provide a nutritious morning boost. Studies have suggested that kale and spinach  smoothies, provide  extra nutrients and prevent cell damage.  If you add greek yogurt to your green smoothie your gut will thank you, as it is filled with good bacteria and protein for your body.  The calcium also helps turn on fat burning and shut down fat storage.
Another, low-calorie smoothie (at only 225 calories), that benefits your metabolism is a blueberry smoothie,  this smoothie can enhance fat metabolism as the phytochemical Cyanidin-3-glucoside (C3G) increases the production of adiponectin, while also increasing the appetite-suppressing hormone leptin and can also lead to weight loss.
Green tea is made from the leaves of the Camellia sinensis L plant, which is rich in polyphenol catechins and caffeine, studies have shown that green tea and its antioxidant properties in fat oxidation or burning. Despite inconsistent results across the board, this tea does show a slight increase in fat burning while resting. According to diabetic patient surveys, drinking four cups of green tea daily resulted in significant weight loss, resulting in healthier lifestyles for the patients. There were also indications that it helped control hypertension in individuals.  However, consuming green tea over a more extended period, with regular physical exercise and a balanced diet, can promote fat oxidation. As a result, it brings about food processing, which is known to influence metabolism.
Black coffee is also a calorie-free and sugar-free alternative. According to healthline, The rate at which you burn calories at rest is called resting metabolic rate (RMR). The higher your metabolic rate, the easier it is for you to lose weight and the more you can eat without gaining weight. Studies show that caffeine can increase RMR by 3–11%, with larger doses having a greater effect.  Interestingly, most of the increase in metabolism is caused by an increase in fat burning
So, avoid high-sugar breakfast drinks and try these healthier options to jumpstart your metabolism and fuel your day.
Recipes for increasing your Metabolism
Time is precious and it's tempting to grab a quick breakfast drink on-the-go. But some of these drinks can damage your metabolism, hinder weight loss, and can be harmful.
Choose nutrient-rich green tea, protein-packed smoothies, or plain water instead. Be cautious of grab-and-go drinks to keep a faster metabolism and a healthy waistline.
Metabolism Boosting Green Smoothie
INGREDIENTS
1

cup of Kale
I cup of cabbage
1/2 cup of celery
Half of one cucumber
2 horse rash
I cup of  raw spinach
1 small apple
I cup of coconut water
INSTRUCTIONS
Add all the ingredients  above  to a blender or an ultra bullet

Blend green smoothie until smooth, adding more  coconut water as needed to reach desired thickness.

Serve, and enjoy
NUTRITION
 Fat: 2.9g ; Saturated Fat: 0g ; Fiber: 4.8g ; Protein: 6 g ; Carbohydrates: 28.2
CALORIES
 

150

kcal
Metabolism Boosting Green Tea Smoothie
INGREDIENTS
I cup of  raw spinach
1 teaspoon of matcha tea or green tea powder
2 tbsp vanilla protein powder
1 small  banana
2 strawberries
INSTRUCTIONS
Add all the ingredients  above  to a blender or an ultra bullet

Blend green smoothie until smooth, adding more water as needed to reach desired thickness.

Serve, and enjoy
NUTRITION
Fat: 2.9g ; Saturated Fat: 1g ; Fiber: 4.8g ; Protein: 6 g ; Carbohydrates: 29
CALORIES
 200

kcal
Metabolism Boosting Coffee Smoothie
INGREDIENTS
6 ounces of freshly brewed coffee
8 ounces of coconut milk
a scoop of vanilla protein powder

1 + ½

 

teaspoon

 

cacao powder

 

unsweetened

1 teaspoon of honey
INSTRUCTIONS
First, brew your coffee. Let it cool completely at room temperature. Another option is to make a cup of strong instant coffee according to the package directions.

In a high-speed blender or Ultra Bullet, combine all the ingredients and blend on high until a smooth and creamy consistency is achieved. Add more coconut milk or cold water to thin your smoothie.

Serve immediately and enjoy!
NUTRITION
  Fat: 2g ; Saturated Fat: 0g ; Fiber: 14g ; Protein: 11 g ; Carbohydrates: 62
CALORIES
200

kcal
Make Wise Beverage Choices for a Faster Metabolism
In conclusion, the importance of a good breakfast cannot be overstated. It's a chance to fuel your body for the day ahead and set the tone for a healthy metabolism.
Unfortunately, many popular breakfast beverages do more harm than good. From sugary juices to syrupy coffee drinks, these options can derail your metabolism and leave you feeling sluggish.
So, the next time you reach for that morning pick-me-up, consider swapping it out for something more nourishing. With the right choices, you can kickstart your metabolism, improve your energy levels, and set the stage for a healthy day.
Remember, your body deserves the best, and that starts with the first meal of the day.
Article & Website Disclaimer